Stall Street Journal Helps NC Students Stay Informed.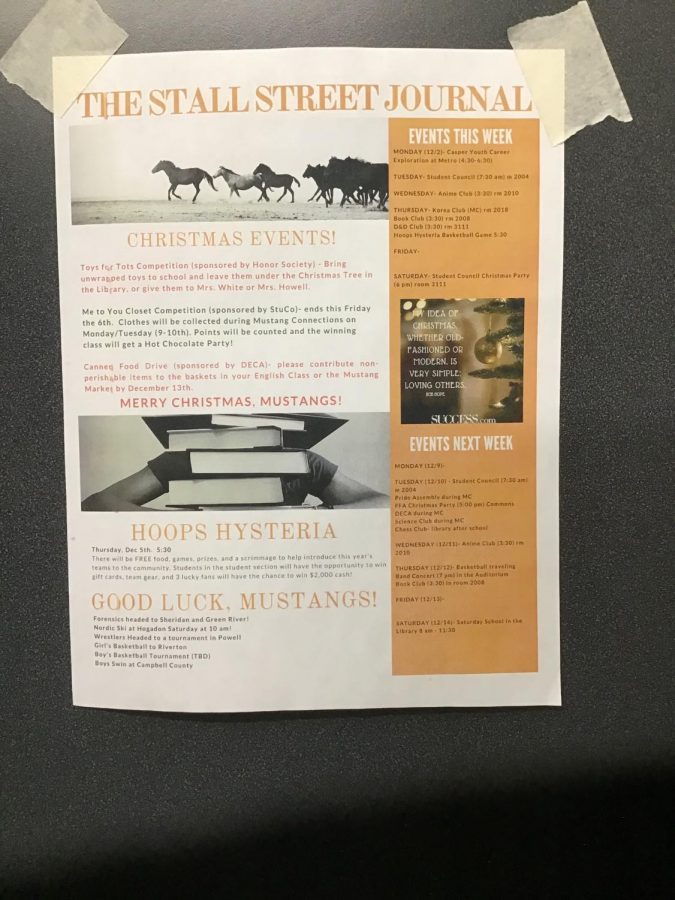 The Stall Street Journal is a one page weekly newsletter posted in bathroom stalls. This newsletter is a great way to quickly stay up to date with what's going on at NC. The Stall Street Journal, a pun on the Wall Street Journal, usually includes an event calendar and an inspiring message. The newsletter for the week of 1/20-2/1 Included a Martin Luther King Jr. quote, a message to NC students about making NCHS a better place, an event calendar and a "Good Luck Mustangs" message for upcoming sporting events. The 12/2-12/14 issue also included different messages and infor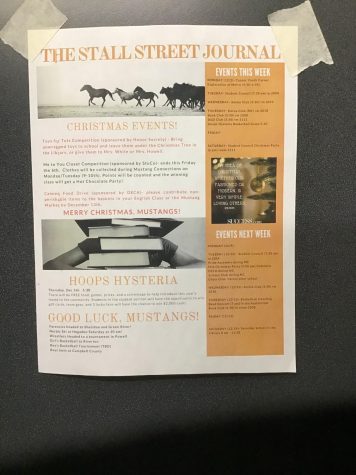 mation about the many holiday fundraisers.
The Stall Street Journals are all written anonymously, but there are some clues to who writes them. Obviously this person pays attention to what is going on at school. The event times aren't always accurate though the dates are usually correct. The author also cares about school spirit and helping others. The positive quotes usually are about important values such as kindness and perseverance. For example, this quote by Martin Luther King Jr. is about perseverance. "If you can't fly, then run. If you can't run, then walk. If you can't walk then crawl, but whatever you do, You have to keep moving forward." Another quote published in the Stall Street Journal is about caring for others. "My idea of Christmas, whether old fashioned or modern, is very simple: Loving others."
The author also has enough time to do these every week, so it probably isn't a principal. The author must have had permission from an administrator if they are a student because "Student newspapers, other publications that are school-sponsored, and other printed materials shall not be disseminated, distributed, or transferred without approval of the principal or his/her designee." NCSD handbook, Student Publications.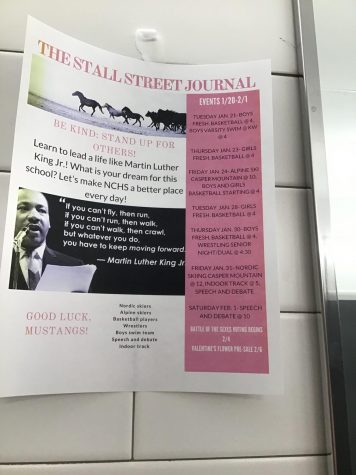 It is likely that the Stall Street Journal isn't written by only one author, but is a collaboration of many people. A quick inquisition in the office reveals that the Stall Street Journal is actually written by student council members supervised by Mr. Neely and Ms. Jensen. The Stall Street Journal is just one of the many ways that NC student council is making a difference at NC. Among other projects, they have organized the "Me to You Closet Competition" and the "Take What You Need" board for finals. Student Council is a student led service club.
About the Writer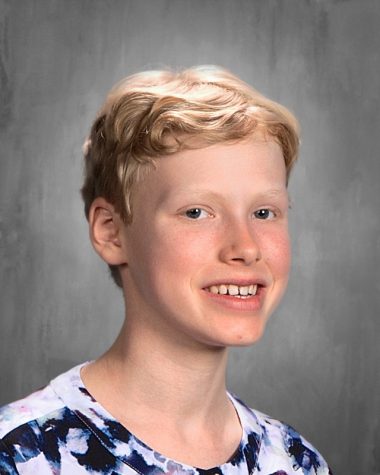 Calla Shosh, Writer
Calla Shosh, a freshman, is greatly enjoying her first year in Journalism.  An avid reader, Calla also enjoys writing for the school newspaper, and drawing...