Mustangs conquer the Trojans at the 55th Oil Bowl
NC Mustangs shut out the Kelly Walsh Trojans 27-0 at the 55th Oil bowl on October 11, 2019. This win furthered NC's lead over KW in the tally of total wins in Oil Bowl history. The Mustangs have now won 42 of the 55 Oil Bowls. This was the third year in a row the Mustangs took home the Oil Bowl trophy.
During the first quarter the game was off to a slow start as both teams were unable to put any points on the board. The Mustangs hit the ground running during quarter two and were able to score two touchdowns. The first half  ended with a Mustang field goal kicked by junior Ben Hoppens making the score 17-0 Mustangs.
The half time entertainment began with the Fighting Mustang Marching Band (FMMB) which played an arrangement of the song "Into the Stone" by the band Earth Wind and Fire. This same arrangement is featured in the movie Drumline. The FMMB next finished with the song "Mr Roboto" by Styx. 
The NC Dance team then danced to the song "Another One Bites the Dust" by Queen. This performance was high energy and definitely popular amongst the crowd.
Next the NC cheer team took the field and danced to the song "I Like it" by rapper Cardi B. Performing to this song was fitting as it happened to be the rapper's birthday that day. After the dance routine, the team then did a cheer that included a stunt with three pyramids. 
With 1:18 left in the third quarter the Trojans prevented another Mustang touchdown by intercepting a Mustang pass making quarter three another scoreless quarter.
During the start of quarter four the Trojans continued to struggle to get to the end zone. With 10:52 left in quarter four, the Trojans made a major mistake which allowed the Mustangs to score another touchdown making the score 24-0.
The Trojans made use of their next time on offense and were able to get in the proximity of the end zone. Their run was stopped by junior Harrison Taubert who intercepted a key Trojan pass. The last of the scoring was, for the second home game in a row, produced by Hoppens who kicked a 39 yard field goal to produce the ending score of 27-0 Mustangs.
About the Contributor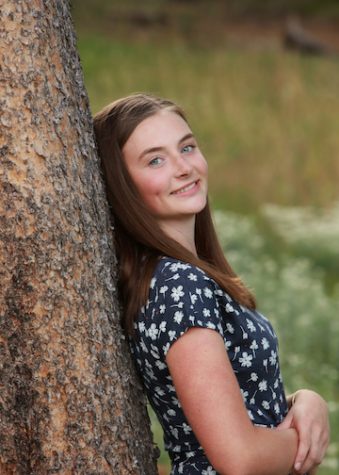 Abby Gruner, Editor
Abby Gruner, a senior, has been a member of The Gusher staff since her freshman year. She became the editor her sophomore year and continues to lead students...