The City of Brass
Book You Might Want to Read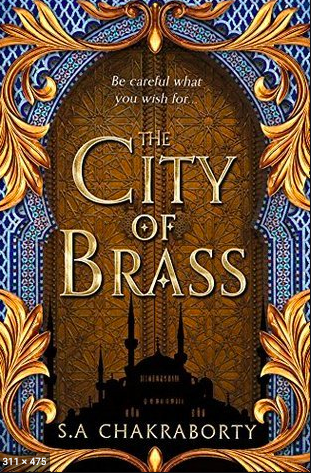 Maya Cooper, reporter
October 22, 2019
The City of Brass by S. A. Chakraborty is a story about a young woman named Nahri and a young Prince named Alizayd. Nahri works as a physician/con artist in a town called Cairo. She looks normal on the outside, but she has the power to heal almost any creature just by willing it to happen. She has always dreamed of getting out of Cairo and becoming a real physician and making good money. Nahri didn't really believe in magic or jinn (a jinn is the equivalent of a genie) until she accidentally summoned two creatures at a zar she was hosting.
The creatures that she summoned were an ifrit and a jinn. The ifrit wanted to kill her and the jinn vowed to protect her. The jinn's name was Dara and he took her to a city called Daevabad to protect her from the ifrit. When she speaks with the king of Daevabad she is made healer of the city, but she didn't get any training because the king wanted to make her look weak. When Nahri has free time she makes friends with the prince, Alizayd, and calls him Ali. 
Ali had a habit of helping people that his father, the king, doesn't want him to help. Ali gave these people money to help make their lives better, but all of his money went into buying weapons to revolt against the king. The king found out about Ali helping them and he makes a plan to have his oldest son, Muntadhir, marry Nahri, and if Ali told her about his plans, the king would make sure that the people he helped would suffer for it.
 Dara found out what the king's plans were and decided, without telling Nahri until the last minute, that he is going to take her away from Daevabad. She didn't want to go because she was safe inside the city and she knew that if she left Ali would be blamed for it. Dara knew that if Ali's life was on the line, she wouldn't go without him so he took him with them. They found a way out of the city, but they didn't get far.
This story is amazing especially knowing that it is S. A. Chakraborty's first novel. It's one of those books that you think you can predict but you can't see the ending coming. I love the details and the imagination in The City of Brass. The part of the story about the jinn is a legend in Arabic and Muslim culture. I like that Chakraborty made the legend a little comparable to real life by adding people and their problems, but I love how different it is from real life because it lets you escape from the real world while you read it. I would recommend this book to anyone who likes magic, legends and adventure.