A moose is on the loose…Again!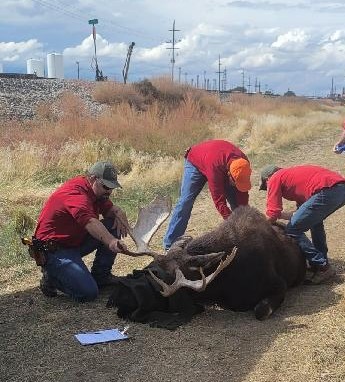 Over the past couple of weeks there have been multiple sightings of a moose near Evansville, Wyo. The moose had most likely been around since around July but just now nearing close to the city of Casper and Evansville. The Wyoming Game and Fish department decided to attempt and relocate the animal, but the moose had other ideas.  
Moose are very rare animals to be able to see in Natrona county especially near the city. No one is really sure where the animal came from, but the relocation process was only to help ensure safety for the benefit of the moose and Natrona County citizens. 
According to Wyoming Game and Fish biologist, Justin Binfet, "Young male moose have a genetic preposition to want to disperse. It is mother nature's way to diversify the gene pool". 
The Game and Fish Department were aware of the moose sightings back in July and knew they needed to relocate the animal. The moose had traveled its way from Alcova, to Caper mountain, then to Evansville.
Binfet explained "Moose can present a danger to humans and pets. The animal can become agitated and or aggressive which can seem as though it is a threat to others". 
The number one goal of the process was to keep the moose safe and to be able to transfer it to a better home. Apart from the relocation process  the antlers of the moose had to be removed to ensure safety for the animal during the transmission. 
The relocation process had begun and the moose was immobilized. The first part of this process had been successful and the moose went down easily. When waking up the moose during the transmit, the moose had other plans rather than what the Game and Fish officers had intended to do. 
The moose had escaped by climbing out from the very top of the trailer or the "sun roof" and running as fast as he possibly could. The Game and Fish staff had tried to immobilize the animal again, but because the reversal drug was still in his system he was not able to go back down.
To this day the moose of Evansville is still around. The Game and Fish department are on the lookout and will once again try and relocate the animal but until then Casper will have its very own "Moose on the Loose."