Casper Irish dancers fundraise through pub-crawling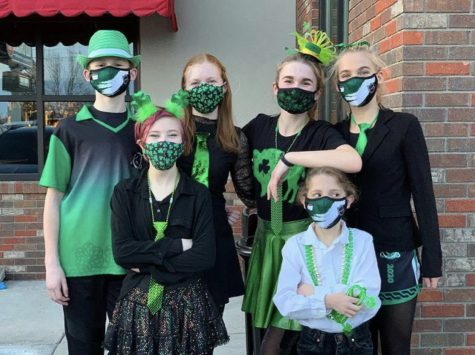 The St. Patrick's Day season offers Irish Dancers in Casper a chance to showcase their talents and earn a little money along the way. One of the main fundraisers for the Richens/Timm Academy of Irish dance is "pub-crawling". Pub-crawling is where the dancers go around to bars and restaurants throughout the city, perform 5 minutes or so of dancing, then pass around hats asking for donations. These donations help the dancers pay for their travels to their national competition later in the year. This year there are 3 NC students headed to the United States Championships of Irish Dance in Phoenix, Arizona in July. Tamsyn Gorman (sophomore), Rhea Hughes (sophomore), and Abby Gruner (senior) are all qualified and planning to attend the National competition. 
This year the pub-crawling started on Friday, March 12, 2021. The dancers stopped at Old Chicago, FireRock Steakhouse, Outback, Raccas, The Office, and Little Shop of Burgers. Thanks to the generous donations from those at the restaurants the dancers made just over $1,700 in that one night. The dancers often refer to Fire Rock as the "jack pot" of their stops as most years, this year included, this is the restaurant that raises the most money. However, Gruner was extremely surprised and grateful to have been given a $100 bill at Old Chicago. She still wonders if the person made a mistake.
Gorman said that she doesn't have one particular favorite place to pub crawl. "Generally, I tend to really like the places with lots of people and good wood floors." The dancers wear shoes similar to tap shoes with fiberglass tips that make sounds on wood floors. The dancers performed to a selection of songs by the Irish rock band Gaelic Storm.
The dancers intended to have another big night of pub-crawling the following night on Saturday, but as most people in Casper know, that was the arrival of the huge snowstorm that caused schools to be closed the following Monday and Tuesday. Because of this, the dancers only made it to Old Chicago and FireRock Steakhouse before calling it a night. However, they still made about $500 dollars. The dancers went on to pub crawl the following Wednesday, St. Patrick's Day and the following weekend.