NC band performs Halloween themed show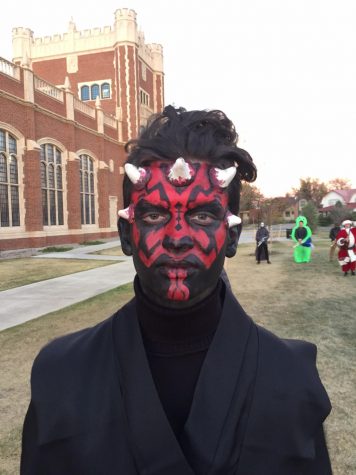 The Fighting Mustang Marching Band (FMMB) performed their last marching show for the 2020-1 school year on Friday October 16, 2020. This show featured halloween themed music as well as halloween costumes worn by the band members. For the senior band members, this was their final performance with the group. 
 This year the FMMB has been unable to wear their uniforms due to changing circumstances and policies surrounding the COVID-19 pandemic. Band director Shawn Weis said that before school started he was told that anything worn or used by the band must be washed and disinfected after each use. "It costs about 2500 dollars to dry clean the uniforms because they are wool," said Weis. 
Weis then decided to order substitute uniforms to save money. The substitute uniforms consisted of matching FMMB shirts, hats and masks paired with jeans and black shoes. However, circumstances changed quickly and "literally like the week before school started they shifted and said that we didn't have to disinfect them every time, but we had already spent 3,000 dollars on the hats and shirts and stuff, so we just went with that for the year," said Weis. 
Head drum major and senior from the band Ana Zettl said, "I honestly wasn't heartbroken that we didn't get to wear uniforms. I felt comfortable most of the time (in the substitute uniforms), and it opened up a lot of opportunities for us to be creative like wearing costumes. Wearing costumes was so much fun! I felt like it helped us really get into the show and gave us band kids a little something to look forward to."
According to Weis wearing halloween costumes was his idea. "I thought this was our chance to do something different and have fun… and it seemed like it was fun."
The show started with the Rocky Horror Picture Show tune of "The Time Warp." In the middle of the song the band stopped playing and slumped over, then as if resurrected by a hit from the drumline, jerked back upright and continued to perform. At the end of the song, the band members fell down or went limp. 
The band members then moved around and slowly came alive again while the voice of Vincent Leonard Price Jr. played over the speakers. Right as the recording of Price ended the band started right into the Micheal Jackson song "Thriller." After the end of the song, a recording of Price's creepy laugh played. 
The FMMB finished their performance with the school song. Instead of marching off the side of the field as normal, the band ran off the front leaving the senior members to be recognized.