Online schooling offers another solution during this pandemic
The pandemic caused by Covid-19 has caused problems for many across the world, school being one. How is schooling supposed to continue while people are not supposed to be around others or leave their houses except for necessities? Well, once the CDC came out with the information that civilians could safely leave their house as long as they wear a mask, school districts everywhere started to plan and create new procedures to get permission to continue schooling this year.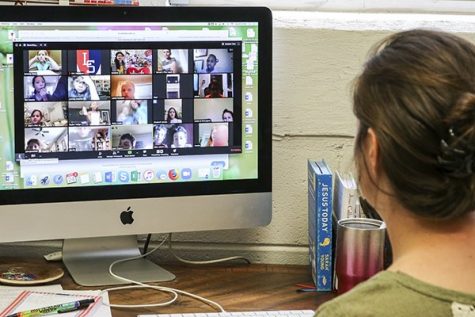 NCSD gave students and their families the option to choose between online schooling and in-person schooling. Some of the students who chose to do online schooling agreed to be interviewed about what online schooling has been like for them. For some, online schooling has been better and safer than going to school in person, but for others, online schooling has been confusing and has created its own set of problems.
One person interviewed, who wishes to remain anonymous, said, "While it's nice to interact with my friends at school, it's not exactly the best learning environment when there's that room for interaction. For me, rather than working in public and relaxing at home, it's vice versa." The interviewee remarked that they have been doing better in online schooling due to having fewer distractions at home. They also said they have enjoyed working by their own schedule.
Another student who opted for online school agreed that online schooling has a stronger appeal than the mandatory building. When interviewed, Ryan Shaeffer said, "…students can schedule their school day around their own personal preferences rather than the traditional 8 to 3 school day." Schaeffer is positive about his choice to do online schooling, as are many others.
However, some are not as happy with the changes. Raylene Jones has a different opinion when it comes to her choice to continue school online. Jones said, "The current working schedule is very unclear to me. At first, I made my own (schedule) or (followed) normal school hours, but teachers are now beginning to set up some specific or optional zoom times." The structure of schooling, when done online, is quite different from going to school in person. Schooling has changed in the modern-day, giving more freedom of choice and giving more responsibility at the reduction of structure, which can be both better and worse for students.
About the Writer
Emma Johns, Reporter
Emma Johns, a Junior, is opening up to her first year working with the staff in the NCHS news cite - The Gusher. Having spent the first two years of high...