How is COVID – 19 Affecting the Students and Teachers of NC?
     During the time off from school because of COVID-19, the students and the teachers were having a hard time figuring out school online. The PE teachers grade what the students say they did for an exercise credit. Mr. Bliss has to sit in the school parking lot, because he has such a bad connection to Canvas, to upload and download things to and from his students, which makes it even harder on him. The students in music classes are having difficulties because they have to record themselves playing their instruments. Since they are used to listening to the rest of the melody as they play, they are having a hard time keeping time with the music. Some of the students have had a tough time with online school because they don't have a good connection to the Internet, or they don't have a good connection to Canvas. Some of the students with a bad internet connection have to go to NC once a week to get paper copies for their classes.
     Some of the students miss being in school because of the social aspect of it, or they are getting a little bored because they have to stay home. They miss their friends and having a place to go to every day. Although, there are some students that enjoy not having to be at school. They like all of the free time that they are getting to do what they want when they want to. Rogan Hoff, a freshman at NC, enjoys his free time by riding his horse after his online classes.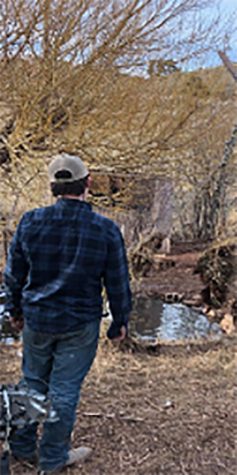 Abby Jozwik, a junior at NC, says, "Being on 'lockdown' since COVID-19 started has been difficult for us all! Not only are we not allowed to see the people we love and care about right now, but the new way of doing school has been a little stressful too!" Jozwik has been painting, sketching and designing new pots for her plants to keep her busy. "Stay positive!"