Fillies repeat as cross country state champions
Hard work and perseverance pays off for NC's girls cross country team.
After placing second at regionals, the girls cross country team came back to win the 4A girls' state title for the second year in a row. The state meet was in Star Valley, Wyoming on October, 26, 2019. Stand out performances of the race included Hailie Wilhelm (10) placing third and Maddie Willis (12) placing sixth. 
Coach Becky Sondag said that the goal going into this season as the defending state champs, whether it was stated or not, was always to win. Sondag said that although there were some points, such as regionals, where winning state seemed very tough, "We never really lost sight of believing in what we were doing." 
Sondag said that the team completed a lot of difficult practices such as running up the mountain before practice even started. These practices were meant to prepare the team for the hilly terrain and high elevations they would face at the state meet in Star Valley. "Having in your arsenal the belief that you could do something as hard as run Casper mountain, then maybe even do a few hill charges at the top, I think, instilled a sense in them (the team) that they knew they were worthy of winning again."
Wilhelm said that the team was a little worried about whether or not they could win state after regionals, but "no matter the outcome we felt we had already won because it had been a great season." While warming up on the course before the race, Wilhelm felt the team had a good chance to win. Wilhelm felt confident in the team's chances because of how prepared she realized the team was. Wilhelm told herself, "We've got this. We've trained for this. We have seen the course more than other teams." 
Wilhelm said that the team's strategy throughout the race was "telling ourselves we could do it in our heads. It was a challenging course for everyone, so we were told to just keep telling yourself during your race 'you can do this. No one has worked harder than us. We have earned this.'" 
Going into the race, NC's greatest rival was Jackson. However, after the start of the girls varsity race it was clear something was off with the team. Sondag said that many of the other teams, such as NC, realized they had a chance. Sondag's strategy of making the team strong as opposed to fast paid off once the team hit the large hill around two miles into the course. "They sailed up the hill. All that hard work climbing up the mountain you could just see it come to fruition on that second hill." After the hill, the team gave it all they had until they crossed the finish line.
Although the team has a lot of young talent such as Wilhelm, Sondag said that filling the shoes of Willis will be difficult. "Not only is she a great runner, but she is also a tremendous leader." However, Sondag went on to say, "We have some young girls who I think are ready to fill in some large shoes."
Wilhelm agreed that there will probably be a lot of pressure on them to do well after winning two years in a row, "but we've had a lot of pressure on us this year after winning it (state) before and I think we can do it again." Sondag too said, "I like our chances."
About the Writer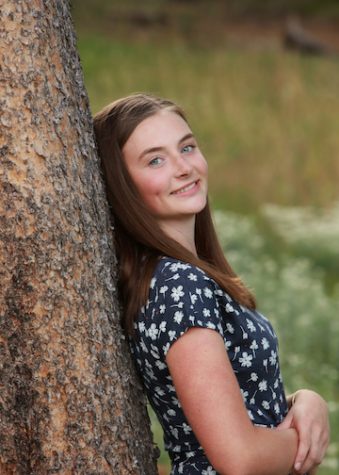 Abby Gruner, Editor
Abby Gruner, a senior, has been a member of The Gusher staff since her freshman year. She became the editor her sophomore year and continues to lead students...