NC nordic skiers competed at Junior Nationals in Alaska
The completion of state races wasn't the end for some skiers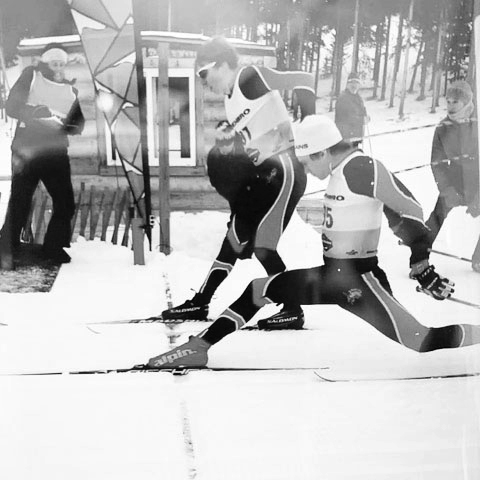 Hang on for a minute...we're trying to find some more stories you might like.
     The 2018-19 high school nordic ski season wrapped up with the state competition that took place in Lander, WY February 22-23. The NC Mustangs were state runners-up and the Fillies took third place. The season was filled with with successful Mustang and Filly races.
     However, for a few NC nordic skiiers the most anticipated races are yet to take place and the season isn't over. A few Mustangs and Fillies have qualified for the Junior Nationals of cross country skiing. The races are going to be held in Anchorage, Alaska March 11-16. Junior Nationals draws the very best nordic skiers in the US ages 14-20. All racers have to qualify to represent their regional division in order to be eligible for these races. The nordic skiers from NC that are going to represent High Plains are sophomores Lu Elder, Abigail Gruner and Max Radosevich; junior Madyson Willis; and seniors Adam Pickett, Evan Corson and Ben Radosevich.
     All season nordic skiers have participated in races sanctioned by US Ski and Snowboard where they earned points in the hopes of qualifying for Junior Nationals. The largest race attended by Wyoming nordic skiers was a race in Soldier Hollow, Utah, (the site of the 2002 Winter Olympics) January 18-19. This race drew skiers from many other divisions of nordic skiing such as Rocky Mountain (Colorado, Arizona and New Mexico), Intermountain (Utah, Idaho and Montana), Far West (California and Nevada) and others. The races held there were similar to the caliber expected at Junior Nationals. Some highlights of these races included NC sophomores Max Radosevich and Lu Elder having the 15th and 17th fastest freestyle qualifying times. Both the u16 girls and boys categories that Radosevich and Elder competed in had over 100 racers in them. Radosevich also had a strong showing the next day in the classic mass start 5k taking 18th.
     The mass start races in Soldier Hollow were very hectic as over a hundred skiers were released onto the course at once. Skis were trampled, poles were broken and skiers were cut off by other skiers. Elder described the mass start classic race as "Definitely chaotic and nerve wracking. There's so many fast skiers around you and getting to start in the front is a huge advantage. With 150 other skiers around it makes you nervous. Mass starts are fun and you can usually know what place you are in or how far back (from other skiers) you are so it's fun to be in that setting."
     The next US Ski and Snowboard race participated in by NC skiers was in Jackson, Wy February 1 and 2. Ben Radosevich, NC senior, took 2nd the first race and won the second race.  Racing in Jackson means that the skiers had to watch out not only for other skiers but wildlife, specifically moose. Before the races skiers had been told to either try and get around a moose or wait for it to leave if they ran into one. In the case they had to wait for a moose their times would not be penalized by the amount it took for the moose to leave. What would skiiers do if they ran into a moose? Adam Picket jokingly said that he would, "Lasso it (the moose) and have it pull me into the finish of the race for the win." Lu Elder and Max Radosevich agreed the safest course of action would be to stop skiing and wait for it to walk away.
     The final junior national qualifying race skiers competed in took place at the Casper Mountain Biathlon venue on Casper Mountain February 8th and 9th. February 9th was a classic sprint where competitors skied the 1.5k course up to four times as they advanced from the qualifiers to the quarter finals to the semis to the finals. The u18/u20 men A final, where skiers went head to head for places first through sixth, featured an exciting end where the finish between NC seniors Adam Pickett and Ben Radosevich was too close to call from sight. After looking back at the photo taken of the finish, Adam Pickett was declared the winner edging out teammate Radosevich by only a few inches.
     These races at the Casper Mountain biathlon venue helped multiple Wyoming skiers qualify for junior nationals who weren't previously qualified. The 7 NC skiers that went made up 1/2 of the High plains team: an immpressive amount to be sure.