Mustangs take on the Plainsmen for a tidy win
September 17, 2018
Filed under Sports
Hang on for a minute...we're trying to find some more stories you might like.
On Friday, September 14, 2018, the Mustangs took to the field at 7PM to take on the Plainsmen from Laramie. The perfect weather brought the fans to Cheney Alumni Field for the third home game. The student section overflowed with excitement and the cheerleaders led the charge. Hoping to change their record to 4-0, the Mustangs entered the stadium with confidence, doing what they do best. The score at half time showed NCHS with the lead, Laramie with 0.
The half time show featured the Fighting Mustang Marching Band playing a variety of music from the Blues Brothers, Jake and Elwood. The NCHS Dance team joined the band for a routine and the cheerleaders joined for the school song. Mr. Weis, Mrs. Campell and Mrs. Baker prepared their students to provide an entertaining half time show.
During the first quarter of play, Laramie tried to break the Mustang defense but they were unable to get through until the second half of the game. The final score was NCHS 37, Laramie 14. The Mustangs successfully brought their record to 4-0 for the season.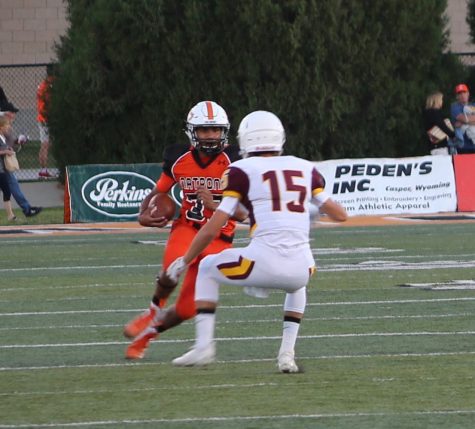 Lisa Gray
About the Photographer
Lisa Gray, Advisor
I have been an advisor for journalism for well over 20 years. My students always work hard to deliver a product of which they can be proud. We hope you...